Thomas Keller, the author of this book and owner of The French Laundry restaurant in Napa Valley, is a true believer that a meal is an emotional experience. He applies that philosophy to his restaurant and also to this cookbook. This cookbook provides you with 150 recipes for you to duplicate The French Laundry in your own kitchen.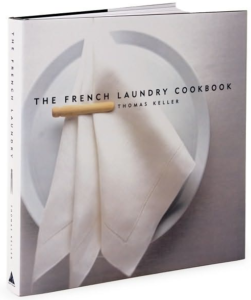 Not only does this book feature exact recipes from Thomas Keller's kitchen, but the photography provided by Deborah Jones makes the book itself a piece of art. It begins with a personal introduction of Thomas Keller's cooking mentality. He speaks of his love and respect for food. There is a brief history of his road to creating The French Laundry and then an introduction to the chef written by Michael Kuhlman.
Dispersed between the pages of amazing recipes are beautiful photographs of the dishes and ingredients themselves. Here and there you also find little bit of information on the ingredients or methods. This book not only talks about the food, but also shows you what it means to truly love and respect the art of cooking. It belongs both in your kitchen and on your coffee table.